Techniques and Services
We use a number of highly-effective adjusting approaches to help improve spinal biomechanics and reduce nervous system interference. The approach we use is based on our judgment and years of experience.
The purpose of the Atlanta Natural Health Clinic is to facilitate a greater expression of life by supporting and empowering patients to take responsibility in their quest for health and healing.
Techniques
We use a wide variety of chiropractic techniques to be sure we can best address your individual needs and concerns. The primary techniques we use include:
Diversified
After identifying which spinal bones have lost their normal motion or position, a specific manual thrust is administered to free up "stuck" joints… Read more…
Activator Methods®
This is a system of spinal evaluation combined with a handheld adjusting instrument that delivers a consistent, low-force thrust… Read more…
Thompson
Thompson Terminal Point technique is a system of analysis and a special table that reduces the amount of energy needed to adjust your spine… Read more…
Applied Kinesiology
Testing the strength of various muscles of your body help us find structural, chemical and mental problems revealed by a weak muscle… Read more…
Percussion
The Percussor is an instrument used to send a deep wave for relaxing muscles, releasing the facia (the tissue that surrounds muscles and organs). Facia release is the basis of many healing techniques such as Rolfing and Structural Integration. Percussion clinical benefits are believed to increase the amount of blood and lymphatic circulation and decrease systemic nervous tension and general or local muscle spasm.The clinical benefits of the Percussor can reduce or eliminate the frequency and intensity of myofascial trigger syndrome and musculoskeletal pain and greatly improve the ability to participate in activities of normal daily living.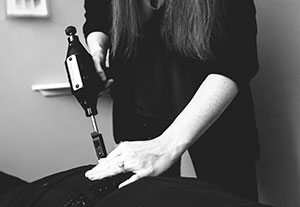 Services
The following other services and therapies are available at Atlanta Natural Health Clinic:
Chiropractic
Chiropractic is a healing profession that enables the body to function better. When you receive a chiropractic adjustment, the ability of the body to self-heal and self-regulate is restored, resulting in optimized function. Read more…
Nutrition Response Testing™ (NRT)?
Nutrition Response Testing is very precise and scientific. However, if Dr. Hurd were to analyze you using Nutrition Response Testing before it was explained to you, you might find it strange, or simply not believable – only because it is probably very different from anything you may have experienced before. Read more…
Massage and Sound Therapy
We're grateful to host the following therapists to serve our community and ANHC family. All have graduated from the Atlanta School of massage and have been developing their unique gifts and talents for years. We know that you'll find one that matches what you're looking for. Read more…
Insight Subluxation Station
This technology helps us assess your nervous system by measuring tiny amounts of heat and electrical differences along your spine. Read more…
Ionic Foot Detoxification
The EB-Pro™ Ionic Foot Bath is an advanced ION therapy system, facilitating the body's natural processes; such as homostatis, detoxification and cellular function; through exposure to positive and negative ions. Read more…
BEMER
Only available on M, W, and F – BEMER Technology
Schedules bursting at the seams, city life without room for serenity, the constant worry of balancing the different aspects of our lives are a main cause of our ever-growing mental and physical discomfort. Read more…
What is NSRT and the Bax Aura?
Have you heard of the NSRT and the Bax Aura? The reduction of stress on the autonomic nervous system (ANS), which controls the body's "fight or flight" response, can directly improve overall health and wellness. Read more…
If you've been to a chiropractor before and prefer to be adjusted in a particular way, let the doctor know. We want you to relax, enjoy and fully benefit from your chiropractic care.
Please contact our Atlanta office to make an appointment today.
---
Chiropractic Techniques and Services | Atlanta Natural Health Clinic