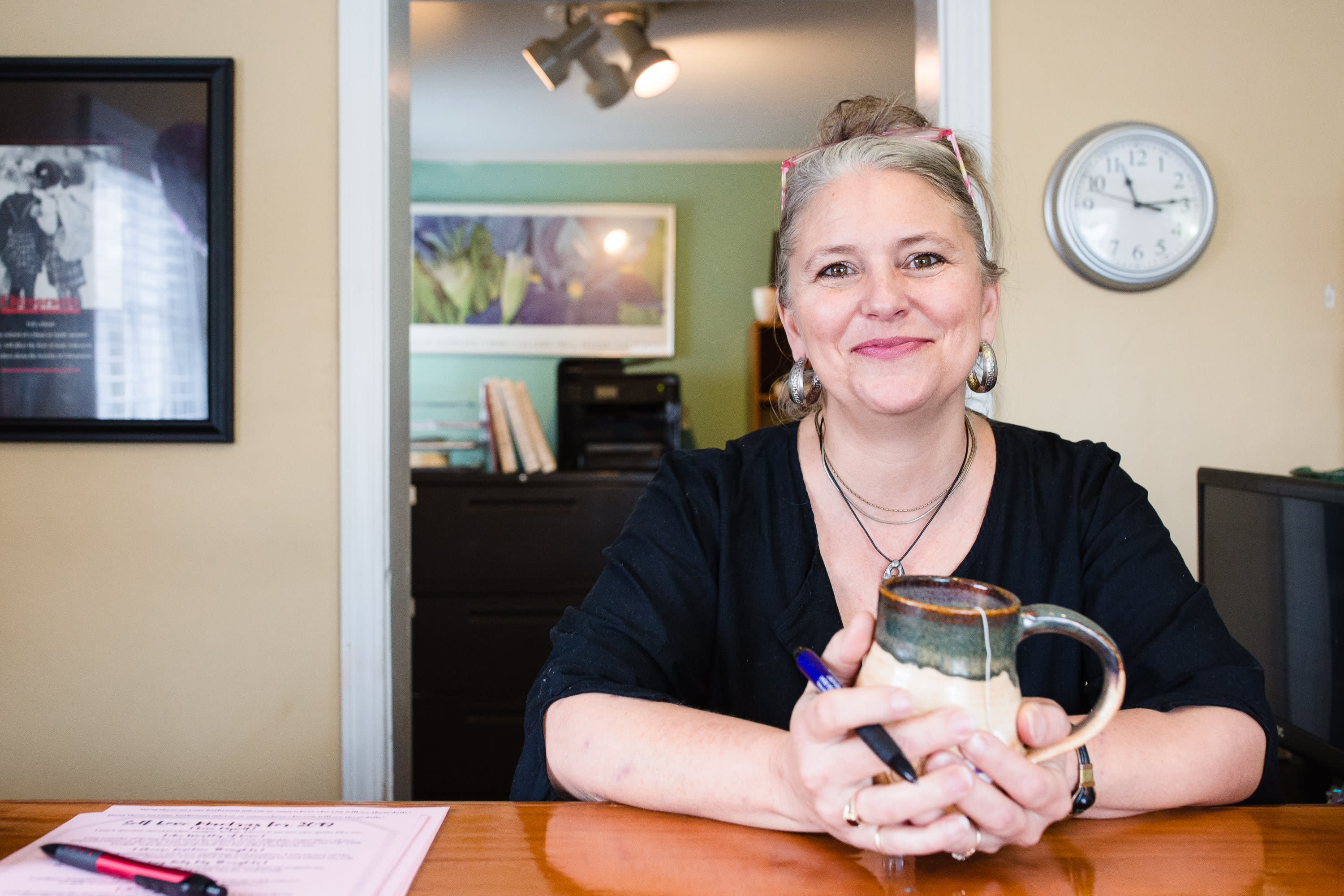 A reflection of Lisa's 30 years at the Atlanta Natural Health Clinic:  
Once upon a time on July 10, 1989, I had my first day at the clinic .  Dr. Hurd was a partner in the clinic, but still a student at Life College (now University). He was doing massage in the clinic when he wasn't in class, studying, and caring for his growing family. His business partner, Dr. DeForest Dean, was the chiropractor who had convinced him to go to Life and who I hung out with when I was at work. I'm grateful to say that some of the people we took care then are STILL part of the clinic family today.
Truthfully, I just needed some extra income to support my family and had NO CLUE what I was stepping into. Initially, it was "just a job", but as soon as Dr. Dean passed the baton to Dr. Hurd, we were off and running to seminar after seminar in search of how to grow the clinic for exponential impact in changing the state of health for our little part of the world.
It didn't take long before I had drunk the proverbial Kool-Aid; I inhaled the philosophy, the science and principles of chiropractic like an addict…I was hooked. This whole idea of health and healing being an INSIDE job, a wisdom within that can be accessed and supported for maximum adaptation to the stresses of Life was familiar. At that time, Mom was still a practicing midwife, delivering babies at W. Paces and Piedmont hospitals.
…and yet, the mindset was also mind blowing…this message isn't what our culture shared. I was a (very) young mom when I started in the profession as a chiropractic assistant (CA). I had been influenced by culture as well as scanning our culture for how it would influence my children. Quickly, I became an advocate for the chiropractic lifestyle and philosophy. I (often quite obnoxiously) talked about it everywhere I went and wore "no subluxation" stickers when I was out. "Please, stranger at the (grocery store, school event, ballpark, dance club, etc.), ask me what it means…I'll tell you about the compromised function of your body and how chiropractic can RADICALLY change the trajectory of your Life."
When I remarried and had more babies (now there are 5 of them), I handed the CA torch to Rebecca who handed it to Chrissy and then to Rachel, onward to Jacquelle, Michelle,  Patrick,  Meshai and several in between or in addition to. I stayed on to train them, fill in gaps between them, give my developed experience, perspective, and skill to the clinic for its survival. (and file the quarterly taxes, monthly sales tax, etc…nobody seemed to really want those jobs) After all, Dr. Hurd is my family and his continued success was the provision for my mom and siblings.
Early in my career, I was challenged to make a choice about becoming a chiropractor myself. Mom moved us to Atlanta (1979) to attend Emory University to become a Certified Nurse Midwife (C.N.M.) and while I have never desired to change that story, I knew what it cost me as a kid and I wasn't willing to spend the time, energy and money required for me to become a doctor. To be clear, I couldn't be more proud and grateful that she followed her heart, gave herself to all those thousands of women in their birthing experience and that her amazing Life is integrated into mine.
As the years passed, a book was being written "in me" for the chiropractic profession and because I doubted that 25 years as a CA was enough credentials to market the book, I earned my certification as a Health Coach. You see, in chiropractic, we have science (compromised neurology + compromised function and adaptability), Philosophy (health / healing is Above, Down, Inside, Out) and Art (the delivery of the chiropractic adjustment). For me, I know and live the science and the philosophy, but because I don't adjust, I had to make Peace to be "whole" in my work. For me, I don't deliver an adjustment, but rather the focus of MY work for decades now, has been the delivery of a chiropractic experience.
Years ago, as the book as continued to develop, I taught for our State Association about delivering a chiropractic experience that empowers patients, that equips them with information, so they are making informed CHOICE about care. It is so important to me that our office remain a place where there isn't pressure or convincing to "convert" to a chiropractic lifestyle, but rather an invitation…an opportunity for us to join our patients as they seek restored health. AND however our patients CHOOSE to use our care, is always up to them; with love and support, never guilt or pressure.
As my focus shifted to my work with OptiMOM Coaching and Dr. Hurd and Mom faced their health challenges, the clinic hours decreased, reducing opportunities to care for ANHC patients. Meshai and Carey Lynn are angels in disguise that kept our ship afloat.
After Mom passed in March, 2017, I was surprised and honored when Philip (Dr. H) asked me to become the managing partner at the clinic. It was an act of true love to once again pour myself into the work with a renewed commitment to the mission of the clinic…and to support his continued opportunity to serve patients with his incredibly vast well of knowledge and experience.
As we once again began to chart a course for a future, I interviewed many doctors to join our team. Finding Dr. Chelsea was an answer to prayer. Our missions and visions aligned so succinctly that moving into relationship felt seamless. With our then new CA, Aly, on board with us, the ship righted its sails, taking off in beautiful new directions.  While Aly has moved closer to her goals of also becoming a provider, Chrissie now holds the space to support our work. I'm genuinely more hopeful than EVER for the exponential impact the Atlanta Natural Health Clinic can have.
I've watched the ripple of our work in schools (teachers, students, families, and programs). Teachers that teach without headaches, parents that can sit to read to their kids at night without low back or neck pain, families that can plan without previous challenges (bed-wetting, allergies, etc.). I love the testimony of our work and influence in varying service industries (midwifery, pelvic floor support, physical therapy, dietary, physical fitness, neurology, etc.) and even the social / emotional well being of our patients. I've witnessed patients recover from trauma with greater ease as a result of chiropractic care. I've witnessed families challenged with behavioral issues recover as a result of care in our practice. I've witnessed a baby who had stopped breathing twice in her first 48 hours of life, NEVER have that happen again …and I think it's because Dr. Hurd had the courage to say "let's just check her" …as a gift while she was still in the hospital and he visited…she's now 20+ years old thriving adult.
I couldn't be prouder of what OUR Atlanta Natural Health Clinic has become. I'm GRATEFUL to have a window of 30 years…and I'm so thrilled to anticipate so many, many more!
We'd Love to hear your story, for however long…PLEASE share…YOU ARE WRITTEN INTO OUR NARRATIVE…speak your voice, share your wisdom and encouragement. Share it video, text, or long story…do you…express as it fits…please know that when you do share / express, it gives others the increased confidence to experience it too.
I'm honored to have 30 years in this profession and I couldn't be more grateful or more in awe for what this profession has done for me and mine.
In MASSIVE Gratitude,
Lisa