Your First Visit to Our Atlanta Practice
It is VERY important to us that you understand all that we do, why we do it, and that it be clearly understood before you choose it for your body.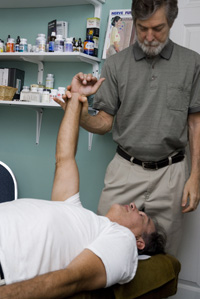 On your first visit, you can expect to be in the office for approximately one hour. We will ask you to complete a few history forms, much of it is to help the doctor in understanding what your body has been through before you've come to our office. To save time, you can download the forms and fill them out before you arrive at the office.
Explaining Chiropractic
For chiropractic patients, there is a brief video explaining the scanning processes, our philosophy and chiropractic care. We don't know what patients have learned before coming to us and again, it's very important to us that you are able to make informed decisions regarding your body.
Next, you can expect to meet with Dr. Philip Hurd or Dr. Carmi Verano, where you'll discuss your current situation, identify your hopes and health goals. This is an opportunity to learn how we may be able to help you. If you and the doctor agree, you'll then proceed to an examination.
A Thorough Examination
Chiropractic patients will experience chiropractic, orthopedic, and neurological examinations as well as HRV, thermography and surface electromyography scans. Nutrition Response Test (NRT) patients will also receive an examination as well as a Heart Rate Variability (HRV) scan. All these tests and scans are non invasive and very informative. They will also help chart progress after care begins.
For chiropractic patients, depending on the results of the examinations and the nature of your condition, the doctor may feel it necessary to take radiographic films (x-rays). Any questions you have about our office and the care offered are encouraged. Usually, after the exams and scans are completed, that will conclude your time with the doctor for the first visit. Your doctor will review the findings of the visit and present them to you on your second visit.
Financial Arrangements
The front desk will review your options regarding available fee structures. Any potential insurance benefits are easily verified if you'd like to submit for reimbursement. Most often, our self pay rates are more affordable than deductibles and co-payments.
A second appointment will be made to review the findings of the days visit.
Initial NSRT / BAX visits take approximately 45 minutes. Subsequent visits for additional treatment groups will take about 20-30 minutes.
Click here to learn what to expect on your second visit to Atlanta Natural Health Clinic…
Or click below to contact us and get started today.
The purpose of the Atlanta Natural Health Clinic is to facilitate a greater expression of life by supporting and empowering patients to take responsibility in their quest for health and healing.
---
First Visit at Atlanta Natural Health Clinic | Chamblee Chiropractor