National Doughnut Day is Friday, June 7th, and we know you probably want to celebrate. Living an allergy free life shouldn't leave you feeling deprived! Here are 7 doughnut recipes you can try out today, just in time for June 7th.
Bonus! Atlanta local solutions (in case you want to go out instead). Obviously we don't recommend eating doughnuts regularly, but these recipes are both allergy friendly and healthier than the conventional variety and are great for a splurge.
1. Cake Batter Donuts from Chocolate Covered Katie (Vegan*, Egg free, Dairy free, Nut free & Gluten free options)
Who can say no to cake batter? Because this recipe is egg-free, you can even eat it out of the bowl! Oops.
For naturally dyed sprinkles without artificial colors or flavors, try India Tree's Nature's Carnival Sprinkles or Supernatural's Rainbow Starfetti Sprinkles, which are soy free, artificial dye free, vegan, gluten free, certified kosher and free from unsustainable palm oil.
[1]
2. Don't have a doughnut pan? Try this one from William's Sonoma or this silicone pan (read: easier removal), or if you want to be extra fancy, this one. Chocolate Covered Katie suggests rolling the dough into balls and baking in a muffin tin (hello doughnut muffins!!)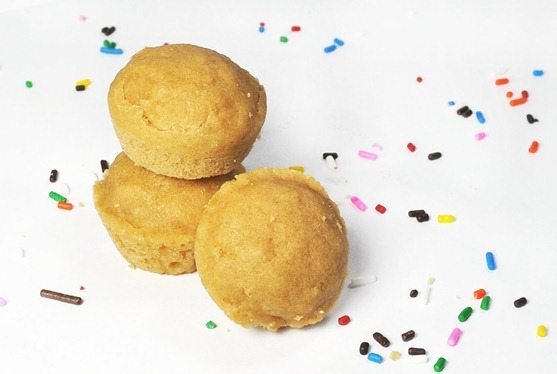 [2]
3. My personal weakness is blueberry cake doughnuts, and Chocolate Covered Katie has an incredible take on them. Seriously, how can you not indulge in sweet summer blueberries in baked goods? My secret is to add a small amount of Allspice, it beautifully brightens the blueberries! (Dairy free, Egg free, with Gluten free and Nut free option)
[3]
4. If you feel like Zenbelly's Simone Miller and can't go without a "real deal" fried doughnut, this classic recipe is worth the extra proofing time. Please note that it is important to be mindful of the smoke point of the oil you're using, make sure it is one that can withstand high heat! (Gluten free, Grain free, Dairy free, Egg free, refined sugar free)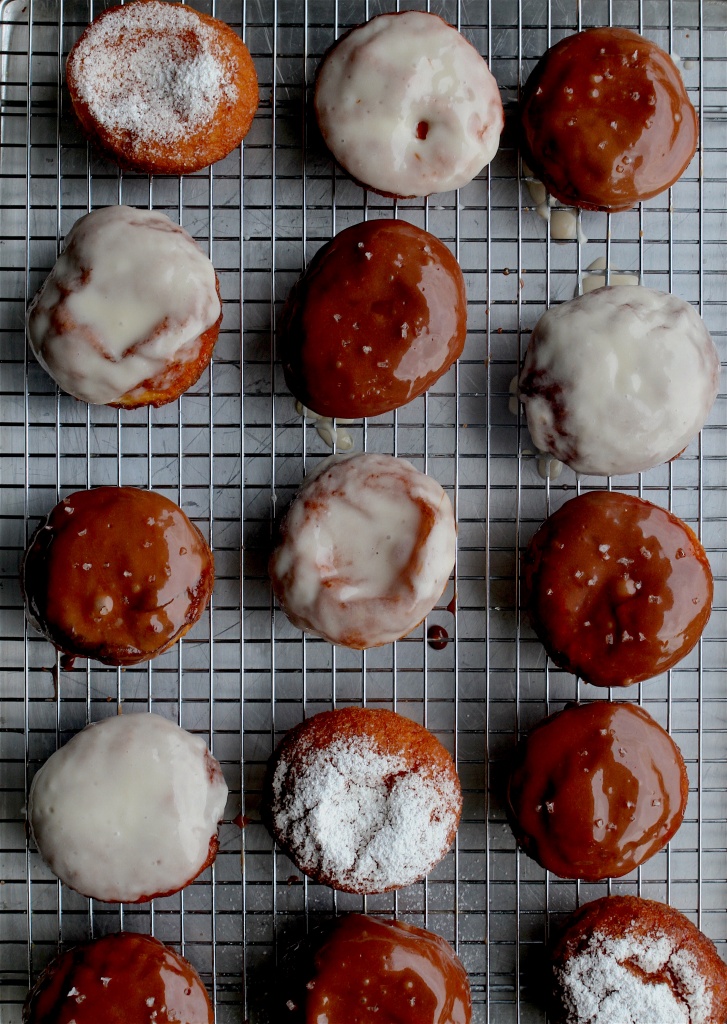 [4]
5. Not willing to wait? This simpler doughnut hole recipe is still fried but has a short ingredient list and instructions for a delightful refined-sugar free chocolate glaze as well. (Gluten free, Grain free, Dairy free, Egg free, refined sugar free)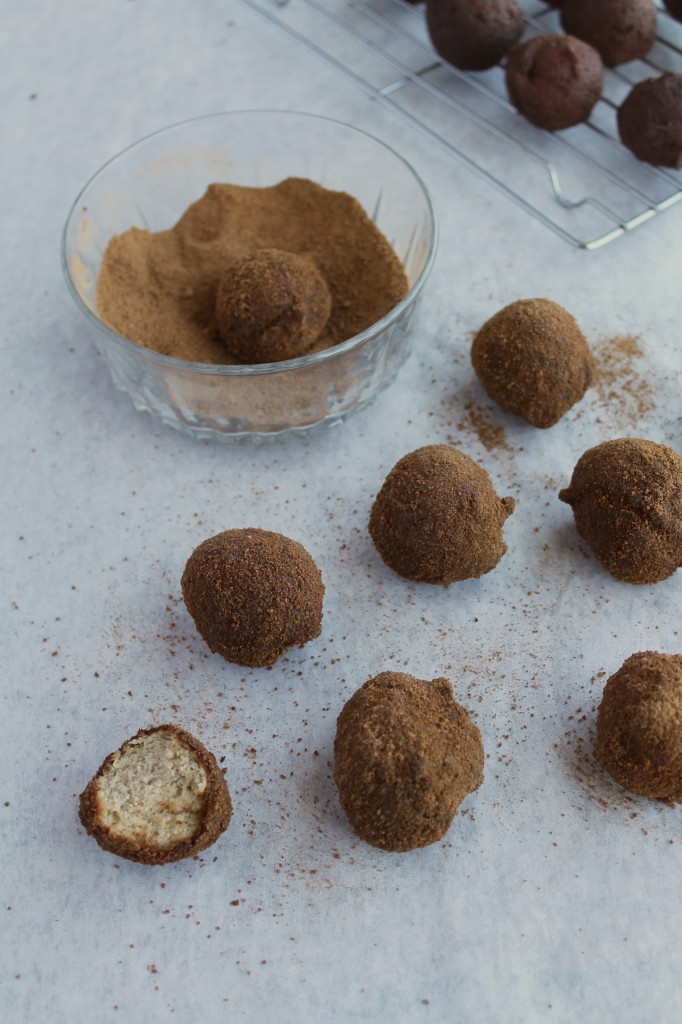 [5]
6. Cake pop pan sitting in your pantry begging to be used? Wellness Mama's Katie Wells suggests using it as a doughnut pan for this Paleo friendly glazed doughnut hole recipe. If you just Marie Kondo'd yours to the thrift store, don't fret, you can still use a doughnut or mini muffin pan.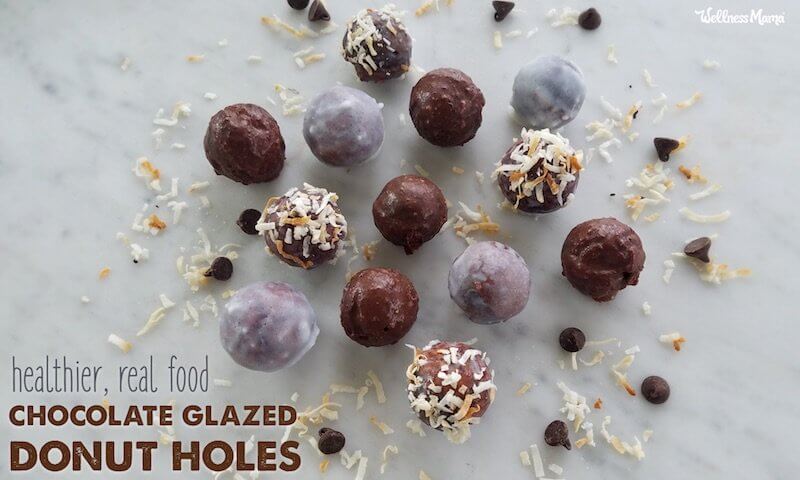 [6]
7. Tired of chocolate? We might need to schedule you…JUST KIDDING it's not everyone's favorite. Don't worry, these Lemon Poppyseed doughnuts from Paleo Running Mama should do the trick! Fun fact, I have a serious lemon tooth (Is that a thing? Can we make it a thing? Move over sweet tooth, I want some lemons (Gluten free, Grain free, Dairy free, refined sugar free)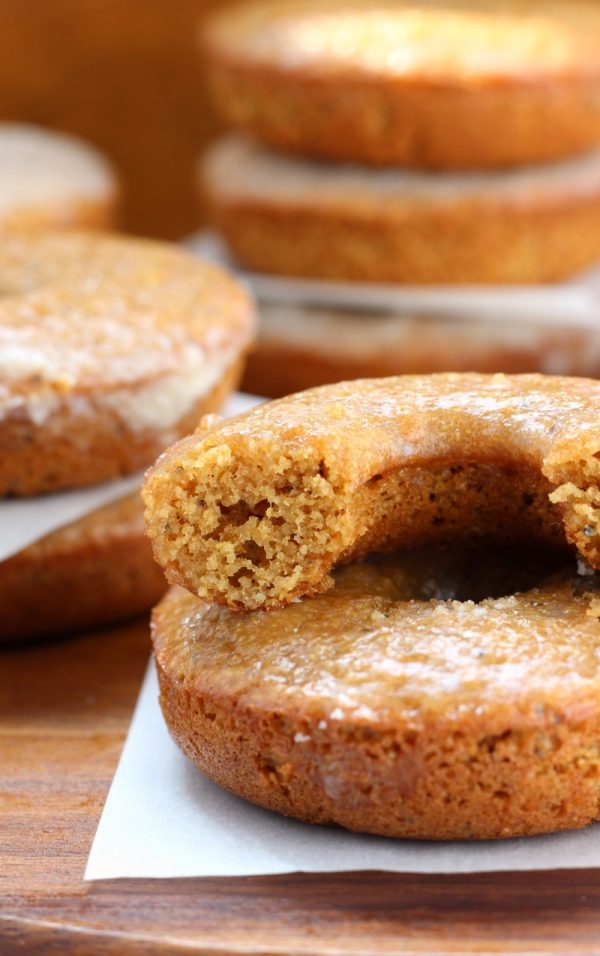 [7]
Not in the mood to bake or want to fight the temptation to eat a whole batch? Alternative Atlanta solutions include:
-Stalking Hell Yeah Gluten Free where they're popping up this week (Queen of Cream Friday 6/7 and Saturday 6/8 in the am)
-Heading down to Revolution Donuts, which offers a chocolate hazelnut low grain and low gluten doughnut daily (but you are able to call 24h in advance to request a different glaze) in addition to numerous flavors for members of your tribe who haven't come over to the dark side clean eating yet.
-Try the freezer aisle at your local Kroger or Whole Foods Market; they carry a few varieties you may enjoy!
Are you going to celebrate? Tell us which of these recipes you would like to try most!
Yours in Health,
Dr. Chelsea
*Yes, it is indeed redundant to say vegan, dairy free, and egg free BUT when I'm looking at recipes, I'm looking for those keywords and I suspect you might be also. "Then why don't all of these say vegan?" Honey isn't considered vegan.